About me




My name is Xanthe and I'm a fashion blogger in the virtual world of Second Life. I started this blog on 10th May 2013 and have since been posting free, cheap and affordable outfits on a daily basis, because I believe that quality fashion shouldn't cost you an arm and a leg!
This tumblr is a side blog to my main Wordpress blog where I like to be a little more social.





Friends


• Shae • Zee • Kathryn • Horror • Harmony • Orf • Caitlin • Bunni • Halo •



Credits




Theme made by Dakilanggerlpren
Back to top button by Dakilanggerlpren
Codes & Tutorials from Google
Powered by Tumblr


Machines

Machines http://wp.me/s3Isp2-machines
Skin: Glam affair – Brandi (TSS)
Hair: Laviere – Genevieve
Headpiece: Zibska – Georgie (Limited bazaar)
Necklace: Boom – The illustrious sprocket 
Earrings: Luxe – Wooden gear earrings
Eyeliner: Blackliquid – Feline noir (Cosmetics fair)
Lips: Buzzeri – Gradient gloss (Cosmetics fair)
Makeup: Swallow – Make up gems (Cosmetics fair)
Nails: Chic Zafari – Claw couture (Cosmetics fair)
Pose: Kirin – Haru

Th…

Heaven

Heaven http://wp.me/s3Isp2-heaven
On Xanthe
Skin: Glam affair – Aria (C88)
Hair: Exile – Stay the night
Headpiece: Aisling – Sionnach circlet
Jewelry: Illusions – Curiata jewelry
Dress: Peqe – Elven 2.0
Shoes: ANE – Strappy heels (C88)
Arches + Chair: Kalopsia – Elven coucil set (We<3RP)
Pose: Del may – Stealth mode
Birdcage: Monaya G – Birdcage

I have a couple more things from We <3 Roleplayto show you guys today and assisting me is…
New cartoon eyes!

I already made them on IMVU so here they are for Second Life.


You can nab the group gift of cyan and grey eyes for free… if you're already in the group, but if you're not then you'll have to pay the L$75 join fee to get your hands on all my group gifts available in store! (There are plenty)
I have also updated the group lucky boards with rainbow eyes.

Come and get them!

Picnic

Picnic http://wp.me/s3Isp2-picnic
Left
Hair: Little bones – Limbs (100 block)
Top: Tee*fy – Julianna cropped top
Necklace: Yummy – Satin bow and pearls set
Skirt: Nylon Outfitters – Tutu set (C88)
Shoes: Fri.day – Ella (C88)
Right
Hair: Truth – April (C88)
Top: Tee*fy – Sophie cut-out ruffle top (C88)
Jacket: COCO – Jacket over shoulders (Fameshed)
Necklace: Yummy – Silver rose pendant (C88)
Skirt: Tee*fy – Su pencil skirt (C88)
Shoes: ANE–…

Hey Furry creators!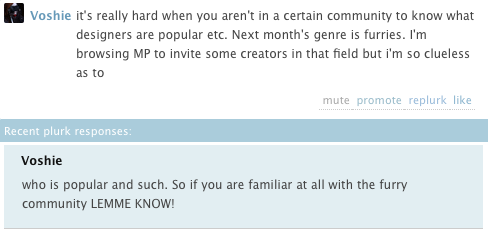 Voshie (Voshie Paine inworld) is looking for creators for this round of Genre, a themed SL shopping event. The theme for the upcoming round being Furry!
Since I know a lot of you hang out on Tumblr, maybe you can help her out by suggesting some awesome Furry creators to take part in this popular event!

Feeling Ferosh

Credits (page. 224)

So about a month ago I was given the opportunity to take part in a new, fantastic project called 'Ferosh'. It's less of a magazine and more of a lookbook that spans across a huge variety of fashion trends for this Spring/Summer season like florals, ruffles, lace, crops the list really does go on and on! I was tasked with Geometrics, which was a fun challenge since I've been…
Designers




• Glam Affair • Tableau Vivant • Half-Deer • LaGyo • Dead Dollz • Finesmith • Pure poison • Junbug • Axix • BCC • Flowey • Imeka • Elephante Poses • Birdy • Little Bones • Buzzeri • An Lár Poses • The Horror • Fri.day • Cae • Enfant Terrible • Atomic • Egozy • The Review collective •





Events


• Cutie Moon Fair • Fit for a Princess • Kustom9 • Oneword • Wayward events •



Stay updated














Feeds


• Be Happy in SL • Blogging SL • SL style daily wire • Upps! Feeds bloggers • SL Freebie Blog Feed • Grid Syndicate •



Disclaimer




Second Life®, Linden Lab®, Second Life Grid™, SL™, Linden™, SLurl™ and WindLight®, are trademarks or registered trademarks of Linden Research, Inc. All rights reserved. No infringement is intended. This blog is not affiliated with or sponsored by Linden Research.